Staff
Chandna Agarwal
Art in the Community Coordinator 
Chandna loves everything art. Having studied urban planning and design during undergrad, Chandna started integrating design thinking into her artistic process during her time at Cal. Since graduating she has explored a variety of design disciplines including product design, permaculture, graphic design and most recently, production design for film. Chandna hopes to continue exploring new intersections between art, design and the community as she moves forward in her career. In her free time, you can find her grooving on the dance floor, at various plant nurseries, or out adventuring in nature.
chandna@nullrichmondartcenter.org | 510.620.1245
Marisa Burman
Ceramics Manager
Marisa started throwing on the wheel in 2006 and hasn't stopped since. She works primarily in porcelain because she loves its smooth, luscious quality and ability to portray softness, delicateness and organic form. A 2011 Niche Award winner, she has exhibited her work across the Bay Area. She earned a BA in sociology from UC Santa Cruz and studied ceramics at San Francisco State University. Marisa likes ice cream and collects birds' eggs and animal skulls.
marisa@nullrichmondartcenter.org | 510.620.1245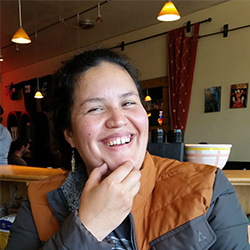 Ilene Conde
Studio Education Manager
Ilene is passionate about the empowerment and enrichment of all communities through creative exploration, experience, expression, and education through art. She deeply values the impact of art as a reflection of our culture and the human condition. Ilene is an advocate for the reinterpretation of Art, Artifacts, and Historical Narratives that challenge the status quo within the intersections of our shared histories and cultures. She draws on her background in Art History, Museum Studies, and her unique teaching experience with kilnformed glass and art education.
ilene@nullrichmondartcenter.org | 510.620.1245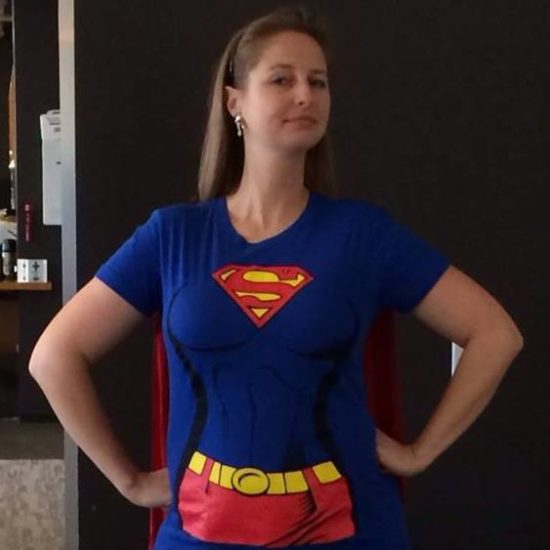 Addela Garboos
Operations Director
An arts aficionado, Addela is a Richmond native and graduate of De Anza High School. She has a BA in Classics with a concentration in Art History from Randolph-Macon Woman's College and a MA in Museum Studies from SF State. She spent the junior year of her bachelor's living in England, feeding her love of art by exploring the wealth of museums and art institutions Britain has to offer. Now back home in her beloved Bay Area, Addela is thrilled to be surrounded by the talent that fills the Art Center and is looking forward to trying her hand at wheel-throwing!
addela@nullrichmondartcenter.org | 510.620.6577
Cristina Haley
Art in the Community Manager
An arts educator at heart, Cristina brings her enthusiasm and love of collaboration to her work as the Art in the Community Manager. She has a B.A. in Art History from Sonoma State University, and before coming to the center worked as a Senior Teaching Artist for the de Young and Legion of Honor Fine Arts Museums of San Francisco. There she worked to develop projects and curricula for students, teachers and visitors. A Bay Area native, and a current Richmond resident, Cristina loves exploring new places, fostering dogs in need, and working to create spaces for all individuals to explore their own curiosities and connections to art.
cristina@nullrichmondartcenter.org | 510.620.5539
Sayra Hernandez
Visitor Services Coordinator
An enthusiastic dog lover, Sayra will help you with any and all questions Richmond Art Center related. Born and raised in the Bay Area, Sayra believes it's important to give back to her community and that is how she found her way to the Richmond Art Center. When not at RAC Sayra can be found searching for the next best hike trail… did we mention she loves dogs?
sayra@nullrichmondartcenter.org | 510.620.6772
Kimberly Pariyavanh
Volunteer & Visitor Coordinator
Growing up in Richmond, Kimberly often passed the Richmond Art Center and wondered about its community and services. After graduating from UC Davis in 2018, Kimberly volunteered as a teaching assistant for RAC's annual Summer Art Camp and was reminded of the power of learning and expression through art. Wanting to give back to her community and be the bridge in supporting others' learning and growth, she decided to join the team. Outside of work, she enjoys listening to music, taking walks, and browsing Instagram for cute cat pictures. She looks forward to interacting and building connections with you all!
kimberly@nullrichmondartcenter.org | 510.620.6772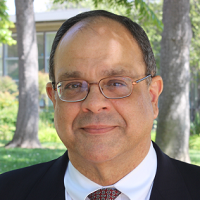 José R. Rivera
Executive Director
José R. Rivera has over 25 years' experience in both the nonprofit and for-profit sectors in leadership roles spanning the arts, foundation giving, family services, environmental and high-tech industries. For twelve years, he provided instruction to minority individuals transitioning to the role of entrepreneur at various workforce development agencies. As interim CEO and COO of major venture-philanthropy in the Bay Area, José supported founders of emerging companies and mentored first-generation minority university students. He joins Richmond Art Center from Lincoln Families in West Oakland, where he was Director of Administration, Privacy and Compliance. Prior to that, José was Executive Director at Stagebridge in Oakland, the oldest performing arts entity in the nation for older adults. A former professional theater and film producer, screenwriter and classical pianist, José has resided in Albany for three decades. Jose holds a B.S. and M.B.A., both from Northeastern University in Boston, and certificates in Organizational Behavior, Psychology and Music from Harvard University.
jose@nullrichmondartcenter.org | 510.620.6777
Carolyn Rodkin
Finance Director
For more than 25 years Carolyn has been in financial management for the software, high-tech, architecture and design industries and then for nonprofits. Perhaps more inspiring is Carolyn's past life as a ceramic artist. Her work was featured in a two-year traveling exhibition "American Ceramics Now" and some of her pieces are in the George & Dorothy Saxe contemporary crafts collection. When she's not working, she's probably gardening or out walking in nature.
carolyn@nullrichmondartcenter.org | 510.620.6775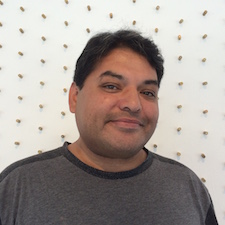 Severo "Petey" Rodriguez
Facilities Coordinator
Severo is a native of Richmond and a graduate of Richmond High School. Severo loves traveling to his native country, Mexico to learn more about his culture and family. Severo joined the Richmond Art Center team as a volunteer, then soon after, he became an addition to our staff. Severo is very family oriented and enjoys sharing the Richmond Art Center with his family!
Rachel Schaffran
Art in the Community Director
A Richmond native, Rachel brings her first-hand experience as a teaching artist in our Art in the Community program and summer STEAM camps. Rachel holds a BA in Visual Arts from Oberlin College and a Masters in Education from Temple University's Tyler School of Art, where her work was focused in the Community Arts Practices program. Rachel is a practicing, interdisciplinary artist who has worked in fiber arts, installation, sculpture and performance. She also enjoys using her creativity to experiment and create homemade herbal products in her kitchen apothecary.
rschaffran@nullrichmondartcenter.org | 510.620.5543
Art Schmitt
Facilities Coordinator
Our resident handyman, Art helps ensure that things run smoothly here at the Art Center. Before joining the staff, Art was a student at the RAC. A Bay Area native and a long-time tinkerer, Art is passionate about upcycling and woodworking. You can find his work for sale at Station One Farmhouse and Mom & Pop Art Shop, both in Point Richmond.
Amy Spencer
Exhibitions Director
Amy Spencer has over ten years experience organizing exhibitions and supporting community art at regional art centers, government entities and museums. This includes working as a community arts development coordinator at the Nevada Arts Council; and at Pro Arts in Oakland, where she managed exhibitions and public programs, including East Bay Open Studios. Spencer holds a Master and Bachelor of Arts from the University of Melbourne, Australia. A seminal role in her career was working at Injalak Arts—an indigenous enterprise in remote western Arnhem Land—where she experienced firsthand the vital role art can play in shaping a healthy community.
amy@nullrichmondartcenter.org | 510.620.1252 | pronouns: she, her