Huffington Post: Mildred Howard's Spirit and Matter
---
As we enter into the final week of Mildred Howard: Spirit and Matter, the Huffington Post's Jane Vandenburgh has published a lively and thought-provoking piece on the exhibit. Vandenburgh concludes, "If you haven't seen this show, don't miss the chance. If you have had the pleasure, you may well want to go again, as as with all great things there's really so much more to see." Mildred Howard: Spirit and Matter closes on Sunday, May 24 with a reception from 3:00 to 5:00pm. Read the full Huffington Post piece here:
Mildred Howard at the Richmond Art Center
Jane Vandenburgh, May 15, 2015 
Mildred Howard is one of those celebrated, successful, highly influential visual artists upon whom the most vaunted prizes have been bestowed but who has somehow escaped wide swathes of the American museum-going public's notice.
If it's a given that this woman's work is important, why hasn't the word got out? How come she's not as famous as, if not a Kardasian, at least one of the art world's bad boys, someone like Jeff Koons?
Really.
Mildred Howard is someone curators and critics pay close attention to, winning the big fellowships, inhabiting the most prestigious residencies, being invited to teach all over the place. Represented by San Francisco's august Gallery Paule Anglim, she travels widely to install her public sculpture, yet people — being told I'm working on this piece — will look at me quizzically, as if to ask Mildred who?
Might all this have something to do with Mildred Howard's not looking like she belongs in the mainstream? her not being what we automatically expect in one of our major artists? that she's from Berkeley, that her hair's tinted blue, that she's female, and 69 years old?
And oh and, yes, there is this: Mildred Howard is African American.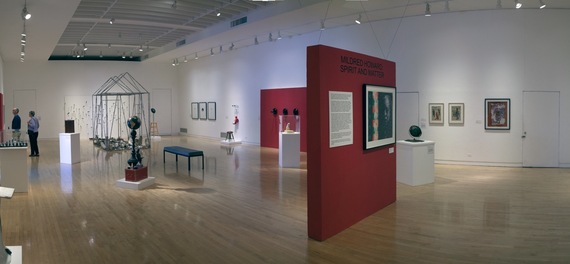 "Spirit and Matter," up through May 24th at the Richmond Art Center, photo by John Wehrle

But does the nature of Howard's work–its being frankly political–make it easier to pigeonhole her as a product of her own place and time? Is her reputation diminished by the degree to which she's representative of exactly who she is? Does this make her work less universal in the eyes of some, and by "some" I do mean the white guys who generally write the rules about who and what will ultimately matter, if what "matters" is assumed to be that which will be expressed in the most crass terms, those of the dollars and cents of commerce?
If the most important project of all essential art is–as I believe–to somehow fashion the most true history of one's own Small Place, then this seems exactly Mildred Howard's mission.
Her brilliance derives from her ability to chronicle not only her own narrative geography with a loving–if at times bitingly sardonic–accuracy, but that she also imparts the spiritual nature of work. Or say it this way: Mildred Howard tells you exactly what it's been to be precisely who she is, a black woman born in the West in the middle of the 20th century, someone still working hard to tell us what is reallygoing on in 2015.
By me, life's just too dire these days to indulge in the gaudy escapist fantasies provided by the zillionaire man-child with all those people in his factory manufacturing giant, kitschy balloon-twist puppy dogs out of costly materials. And, for the common man, the Koons brand is now linked to H&M, whose cheap clothing is made offshore under circumstances that bear scrutiny. He can do what he wants, I simply refuse to admire the enterprise and this is why:
I do not believe it's harmless. Some body — that is, some human person — has had to dig those precious metals up out of our increasingly ravaged earth. Ours is world being torn apart by greed, why ought we mindlessly celebrate what actually is not funny?
That everything is connected, that it all derives from something, is exactly what the work of Mildred Howard asks its careful viewer to contemplate.
If our ability to make art is, anymore, one of the few things that can save the soul of the human species, this survey of forty years perfectly demonstrates how art works. First, it is beautiful to look at and so it enlivens us and lifts us from our sometimes tragic lives. For another, it is interesting. You come from this show not only better informed, but feeling like you're taking part in one of the more necessary conversations of our time.
Howard's work defies easy categorization: sculpture, assemblage, ceramics, prints, collage, installation, much of which is clearly autobiographical, informed not only by her stance as a political being alive in her own times but by all else in her personal history. As a young person coming up in the Bay Area arts scene, she worked professionally as a dancer, clothes designer, chef and seemingly knew everyone. Her work is passionate, thoughtful. It feels true.
Growing up in a large Berkeley family, the youngest daughter of parents who moved from Galveston, Texas, to the Bay Area during World War Two to work in the shipyards, Howard allows her work to embrace all elements of her own past. The elder Howards' South Berkeley antiques business was a community gathering place. Her mother is Mabel Howard, the political activist, for whom the low-cost housing project for the elderly on San Pablo Avenue is named.
Spending time in the RAC galleries over this past month I've wondered where the life of the maker leaves off and where the work itself begins. The objects feel physically constructed, in that you sense the intimate labor of the artists' hands. This is DIY at the most exalted level.
Some of the work here is quiet. You can stand in front of the photographic print "Allegory of Now" staring into its meditative silence yet the narrative content remains enigmatic. The piece contains a strange immediacy, as if to say we are all haunted by a past, one we may well share but can only know this, as we know one another, in sidelong glimpses.
But Howard also works large, fashioning public installations such as the bottle house she's just finished at Tulane University–"This might be my Last House," as she's been known to say–or the Blue Wall she did with the jazz poet Quincy Troupe on a pedestrian bridge over Geary Street in San Francisco's Western Addition.http://www.artandarchitecture-sf.com/tag/blue-wall
One signature piece at RAC is the installation "Safe House," which includes household artifacts and so becomes a repository of historical allusion, both collective and personal. This is the largest and most dramatic piece in the current show: metal bright, a largely empty house-shaped room whose floor is scattered with trays, vases, creamers, tea and coffee service, all implements of highly polished silver that trail away through what might be the doorway, daily artifacts becoming increasingly tarnished as they leave the room, as if the light of day will dim our illusions about what goes on within a violent household.
And, yes, violence is at the heart of this piece, as the house faces a wall into whose Sheetrock dozens of knives have been plunged.
Mildred Howard has discussed the making of "Safe House" in a gallery talk and it's here we learn that her research encompassed the history of metallurgy, specifically silver making in colonial days when smiths were fashioning not only objects such as these–the sterling owned by Europeans for entertaining–but the iron manacles and shackles used for the transport of people from West Africa: her people, as it turns out, as Howard has done the DNA testing that establishes her own ancestors as being among those brought to the Americas against their will.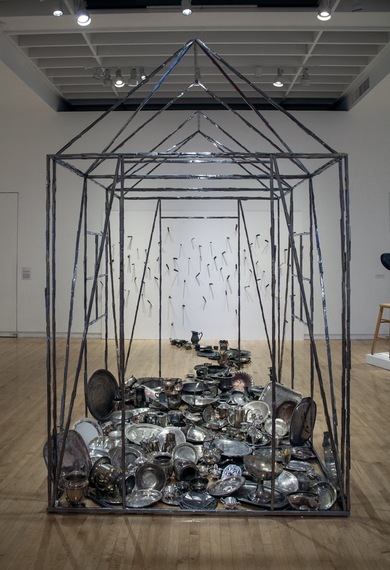 "Safe House," Mildred Howard survey "Spirit and Matter" at the Richmond Art Center, photo by John Wehrle
In "Ten Little Children Standing in a Line, One Got Shot and Then There Were Nine" we find a broad expanse of white into which bullet casings have been lodged. It was done specifically for this show and it references, obviously, the violent events of the recent past in the cities of the America, specifically, Ferguson, Ohio, last August.
Though absolutely contemporary, "Ten Little Children" makes use of materials employed in an earlier installation, one done decades before in response to the massacre of black children in apartheid Soweto, children murdered for the crime of wanting to learn English. Plus ça change, say these perfectly lined-up rows of bullet casings, each as carefully positioned as a stitch upon a quilt. In order to have twin events echo–thus speaking directly across time and distance–the artist has the title of the new piece remain identical to the first.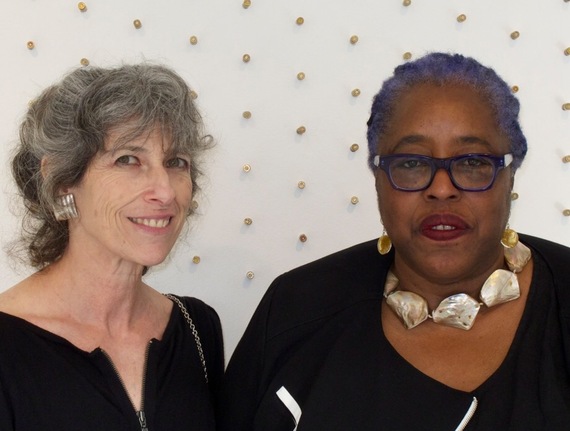 Mildred Howard and Jan Wurm in front of "Ten Little Children," at the RAC, photo by Raymond Colbert
Mildred Howard's "Spirit and Matter," is up at the Richmond Art Center though May 24th. Each weekend has featured community events that make this feel like an on-going Mildred Howard festival–this weekend's is the performance by the Del Sol Quartet on Sunday. All this has been put together through the tireless efforts of the Center's new exhibitions curator, the Berkeley painter, Jan Wurm.
If you haven't seen this show, don't miss the chance. If you have had the pleasure, you may well want to go again, as as with all great things there's really so much more to see.
"Spirit and Matter," Mildred Howard, at the Richmond Art Center through May 24th: https://richmondartcenter.org/exhibitions/
Follow Jane Vandenburgh on Twitter: www.twitter.com/waynesmom
Tags: featured