Feels Like Home: Work by Rebeca García-González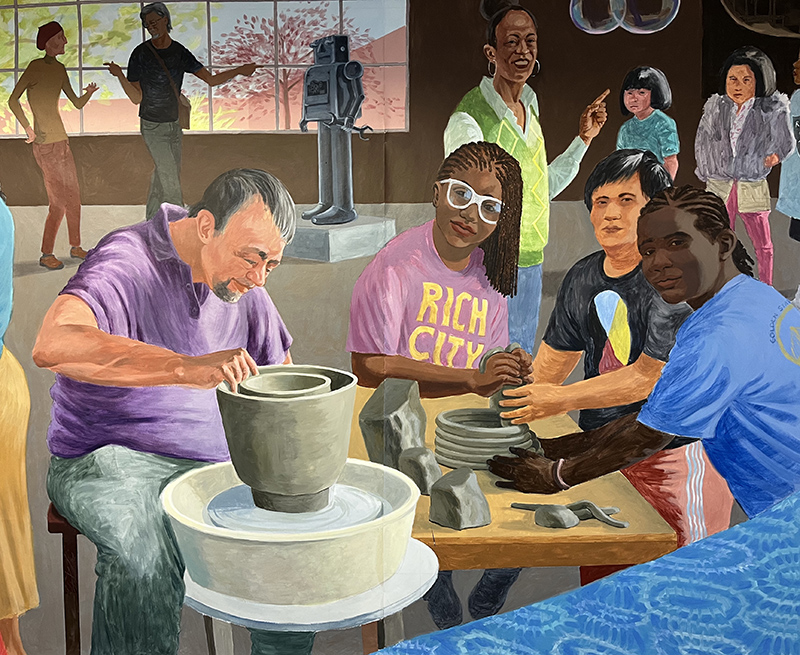 Feels Like Home: Work by Rebeca García-González
Exhibition: January 20 – March 19, 2022*
Reception: Saturday, March 5, 12pm-2pm*
In winter 2022 Richmond Art Center is excited to unveil a new site-specific mural by Rebeca García-González, We Found Joy In Art-Making / Encontramos La Felicidad Haciendo Arte. The mural will be accompanied by an exhibition of García-González's Richmond community-focused paintings and drawings.
Special thank you to Rebeca's youth assistants Leslie Poblano and Denise Campos!
This project is made possible with generous support from Blue Shield California
*Exhibition and reception dates subject to change in response to the Covid-19 pandemic.
About the Artist: Rebeca García-González is a Richmond, CA painter who grew up in a suburb of San Juan, Puerto Rico. After earning a BFA at the University of Puerto Rico with a focus on printmaking, she came to San Francisco in 1985 to pursue a graduate degree at the San Francisco Art Institute, but studied graphic design and education instead. Working within the public school system helped her develop an awareness of various US social movements, among them, immigrant rights, marriage equality, and racial justice. In 2016, after working as program manager at a couple of non-profits she became a full-time working artist and since then has been involved in public art and a few political projects. She shows her work locally and her paintings are part of many private collections.
Image: Rebeca García-González, We Found Joy in Art-Making / Encontramos La Felicidad Haciendo Arte (detail), 2022