60th Annual Holiday Arts Festival
12/4/22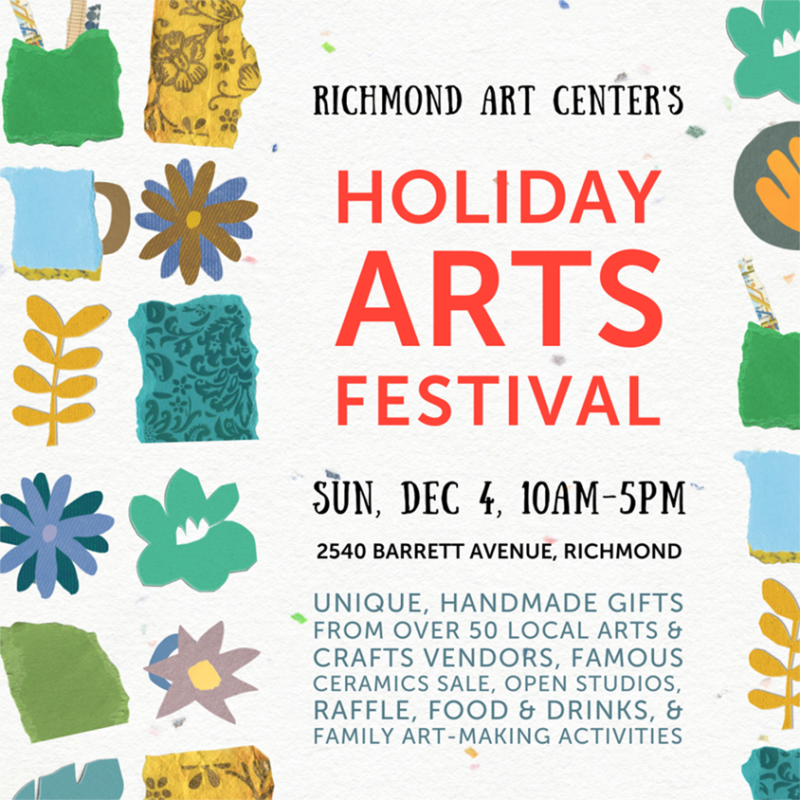 60th Annual Holiday Arts Festival
Sunday, December 4, 2022, 10am-5pm
Richmond Art Center, 2540 Barrett Avenue, Richmond
Unique, Handmade Gifts by Over 50 Local Arts & Crafts Vendors
Famous Ceramics Studio Sale
Free Art Activities to DIY Your Own Cards and Gift Wrap Paper
Community Partner Pop-Ups
Open Glass Studio
Wet Plate Photo Portraits by Alice Rice
Raffle
Food and Drinks
Press Release: IN ENGLISH | EN ESPAÑOL
The Holiday Arts Festival is back in-person to celebrate its 'diamond jubilee' 60th year.
Each year the Holiday Arts Festival offers over 1,000 visitors a chance to shop for unique gifts from local arts and crafts vendors, enjoy food and beverages, learn about inspiring community organizations, and participate in art-making activities for the whole family. The Festival's gift sale runs from 10am to 5pm at Richmond Art Center, 2540 Barrett Avenue, Richmond.
Covid-19 Safety: Note, this is an indoor event. We will do what we can to keep people safe. Mask wearing will be required in the galleries and indoor public spaces. Masks may be removed while in the courtyard.
THANK YOU to our donors and supporters who make this event possible: CARNE y ARENA; Chris Ahn; East Brother Beer Company; JaeMe Bereal; Jimmie Robinson; John Ziesenhenne and M.A. Hays Co.; San Francisco Museum of Modern Art; Semifreddi's Bakery; The Estate of Emmy Lou Packard; Students, Teaching Artists and Friends who donated their work to the Ceramics Sale; and Our Beloved Volunteers!
Meet the participants of the 60th Annual Holiday Arts Festival!
Richmond Art Center is pleased to serve as gateway for local artists to display and sell their works. At the Holiday Arts Festival we're also highlighting community organizations with vital messages.
Richmond Art Center does not receive any portion of the proceeds from sales – either in-person at the Festival or online via linked artist or organization websites – and the terms of all sales are set by the participants.