Rebel Art: Emmy Lou Packard's Legacy
7/29/22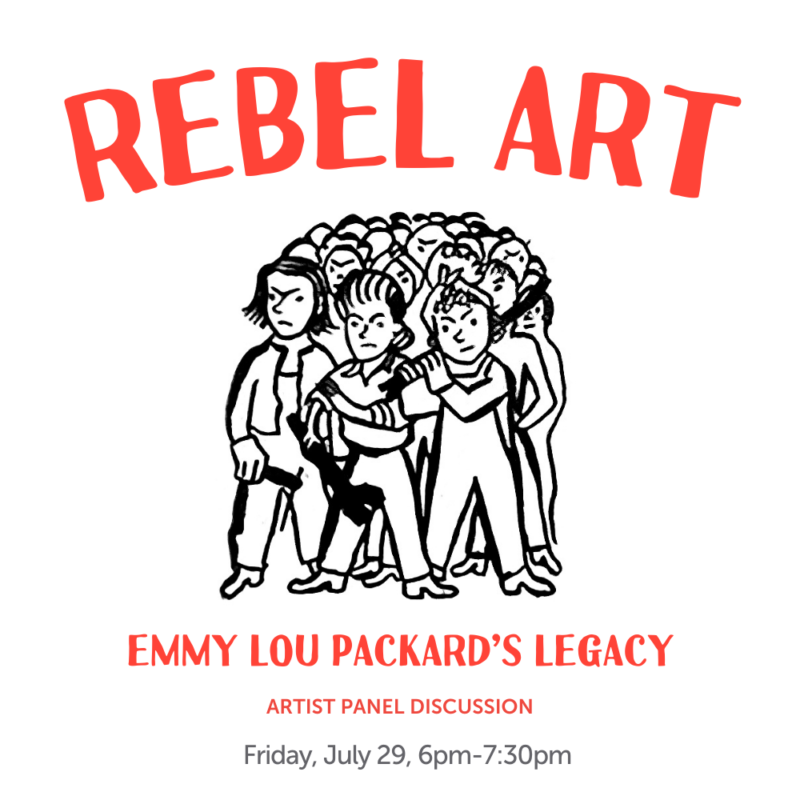 Rebel Art: Emmy Lou Packard's Legacy
Friday, July 29, 6pm-7:30pm
Richmond Art Center, 2540 Barrett Avenue, Richmond, CA
FREE
Art historian, curator and writer Terezita Romo will facilitate an artist panel discussion that explores Emmy Lou Packard's artistic and social legacy in the Bay Area. Artist panelists are Miranda Bergman, Elaine Chu, and Lucía González Ippolito.
BIOS
Terezita "Tere" Romo is an art historian, curator and writer with a long career as an arts administrator and foundation officer. Most recently, she served as the Program Officer for Arts and Culture at the San Francisco Foundation. Previously, she was the Arts Project Coordinator at the UCLA Chicano Studies Research Center (CSRC). Romo also served as the Arts Director at the Mexican Fine Arts Center Museum in Chicago and Resident Curator at The Mexican Museum in San Francisco. An art historian, Romo has published essays on Chicana/o art in journals, anthologies and exhibition catalogues and is the author of Malaquias Montoya (2011). She is currently an independent curator as well as Associate Faculty and Lecturer within the UC, Davis Chicana/o Studies Department.
Miranda Bergman is a veteran of the community mural movement, transforming urban space by painting in the streets for over 40 years. Her murals stretch from various sites in the United States, to Mexico, Central America, and Palestine. Bergman grew up in the San Francisco Mission District and currently lives in Oakland. In the 1970s, she joined other artists in the Haight-Ashbury Muralists. From 1972 to 1976 Bergman created labor-themed posters with Jane Norling for the Working Peoples' Artists collective. In 1986, Bergman worked with Juana Alicia, Hector Noel Méndez, Ariella Seidenberg, and Arch Williams to create the mural El Amancer (The Dawn) in a park in Managua, Nicaragua. In 1994 she was one of the seven women artists who in 1994 created the MaestraPeace mural, the largest mural in San Francisco, which covers The Women's Building. She teaches visual arts and muralism to many constituencies. Her artwork and essays have been published in over 30 books, and appear in several films.
Elaine Chu was born and raised in San Francisco. She graduated from the School of the Arts High school and continued to study drawing, painting and art history at the Maryland Institute College of Art in Baltimore. In 2005 Chu joined the Philadelphia Mural Arts Program while living in Philadelphia and worked as a mural artist and teaching artist. When she returned home to San Francisco in 2011 she began working for Precita Eyes Mural Arts Association, training and inspiring her development as an artist under the guidance and mentorship of its founder, master muralist Susan Cervantes. For over a decade she has worked at Precita as the Director's assistant, a teaching artist and as a muralist. Chu is also the co-founder of the mural collaborative Twin Walls Mural Company alongside her best friend Marina Perez-Wong. Since 2013 they have painted over 30 murals together.
Lucía González Ippolito is a Mexican-American artist, teacher and activist born and raised in the San Francisco Mission District, a neighborhood vastly impacted by gentrification, one of the many themes of focus in her social/political artwork. She directed and designed the Mission Makeover mural, a 25-foot mural addressing issues of wealth inequality and displacement in the Mission neighborhood, as well as the Women of the Resistance mural, depicting 38 women activists in San Francisco's Balmy Alley. She was a lead collaborator on the most recent and largest mural of the Latinx Cultural District, "Alto al Fuego en la Mision," honoring the life of Amilcar Perez Lopez. Ippolito is also a screen printer and co-founder of the San Francisco Poster Syndicate, a collective of students and artists who live-print free political posters at protests and community events. Their posters are in the collection of the Library of Congress. She studied at the Chicago Art Institute, and graduated from City College of San Francisco and San Francisco Art Institute.
Emmy Lou Packard: Artist of Conscience was made possible with support from The Jay DeFeo Foundation. Vital support was also provided by California Humanities, a non-profit partner of the National Endowment for the Humanities.