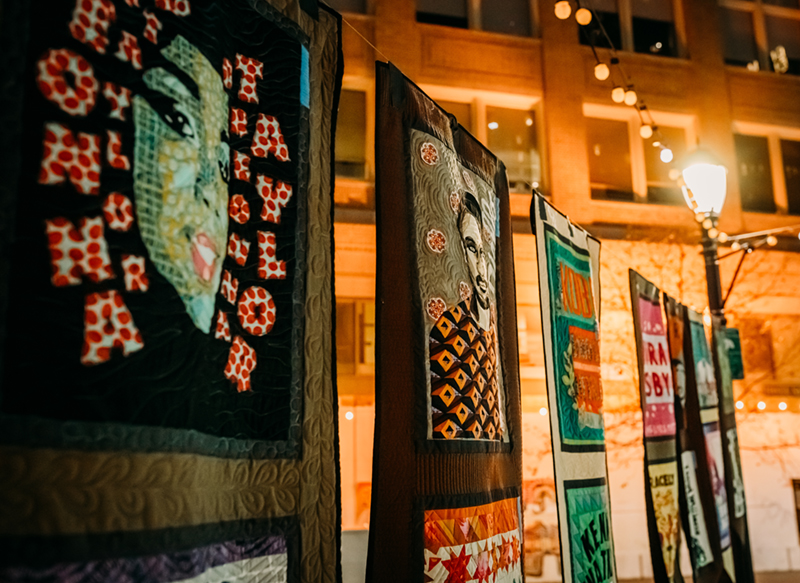 The Remembrance Project
Exhibition: January 18 – March 18, 2023
Opening Reception: Saturday, January 21, 2pm-4pm
Remembrance Project Workshop: Saturday, January 28, 2pm-4pm | More info…
Stitching Stolen Lives: Book Talk With Sara Trail: Saturday, March 4, 1pm-2:30pm | More info…

Gallery Hours: Wednesday-Saturday, 10am-4pm
Richmond Art Center, 2540 Barrett Avenue, Richmond, CA 94804
Social Justice Sewing Academy
presents
The Remembrance Project
, a cloth memorial of activist art banners commemorating the many people who have lost their lives to systems of inequity and racist structures. These banners have been created collectively by volunteers across the country to help educate and inform communities about the human impact of systemic violence.
The Remembrance Project banners are displayed by local and national organizations to express solidarity in the fight for social justice and remembrance of those lost to violence. The project remembers those lost to: authority violence (officer-involved shooting, police brutality, etc.), community violence (victims of gang violence, neighborhood or family, drive-by shooting, etc.), racial violence (hate crimes, racially motivated, etc.), and sexual and gender-based violence (violence against LGBTQ+, domestic violence, "missing, murdered Indigenous women," etc.).
A collection of banners from The Remembrance Project are displayed at Richmond Art Center in remembrance of our community members who have been lost to violence.