East Bay Express: Tattoos of Memory
Tattoos of Memory
Victor Cartagena's installation at Richmond Art Center speaks to issues of displacement through personal memories.
By Sarah Burke
Apr 23, 2014
Victor Cartagena likens the act of remembering to that of crossing a bridge. In his artist's talk at the Richmond Art Center, he described how he was forced to leave his home country of El Salvador in 1985 due to civil war, and sought refuge in California. Since being displaced, he has relied on this imagined bridge as recourse to a sense of identity and belonging. But it has been decades since he left his home, and much of what he wishes to return to no longer exists. Such tensions around identity and politics are the subject of the Bay Area artist's installation Sites/Sights of Intervention, which is now on view at the Richmond Art Center.
The installation consists of various pieces that are meant to be experienced as a visual and spatial dialogue within which the viewer is centered. The gallery is dimly lit, and entering it is like wandering into Cartagena's memory — a negative space of placelessness. "I heard the other day that memory is such a place that those who have memory leave the present …. and that makes me feel that I am not alone because being part of this group of immigrants, who live all over the world, we don't belong anywhere," said Cartagena. "We have our own territory, our own country — the immigrant country."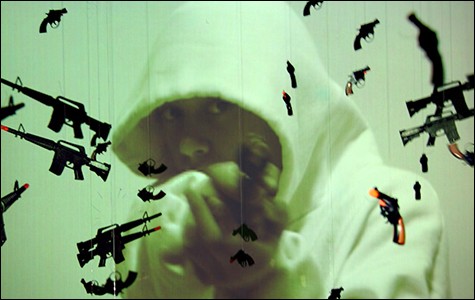 One of the most affecting pieces in the show is the series "Tattoos of Memory," for which Cartagena superimposed faces onto diagrams from American-made manuals describing how to torture El Salvadorian prisoners. Although he was never tortured, Cartagena speaks of this historical episode as a tattoo upon his cultural memory. In his artist's talk, he related these tattoos of memory to the actual tattoos on El Salvadorians who were born to refugee parents in the US and then deported back to El Salvador after the war. These people often became homeless and, as a result, got involved in violent gangs, whose members covered their bodies in tattoos. "We all have las maras [gang tattoos], because we're immigrants," said Cartagena. "I have my own tattoos on me and I call them tattoos of memory, and they're all over my face, and I can't erase those tattoos."
Cartagena's immersive and almost surrealist installation also incorporates passport photos from the Eighties that he collected from the photographer who took his own passport photo when he emigrated from El Salvador. Although he doesn't know for sure whether the subjects emigrated, he knows at least that they hoped to.
While many of the symbols Cartagena works with are pulled from personal experience, they speak to broader issues of violence, alienation, and ignorance. In this way the artist opens up both collective and personal wounds with the understanding that the first step in healing is acknowledgement.
Sites/Sights of Intervention runs through May 30 at Richmond Art Center (2540 Barrett Ave., Richmond). 510-620-6772 or TheRAC.org
Link: https://eastbayexpress.com/tattoos-of-memory-1/