Press Release: Go Fish!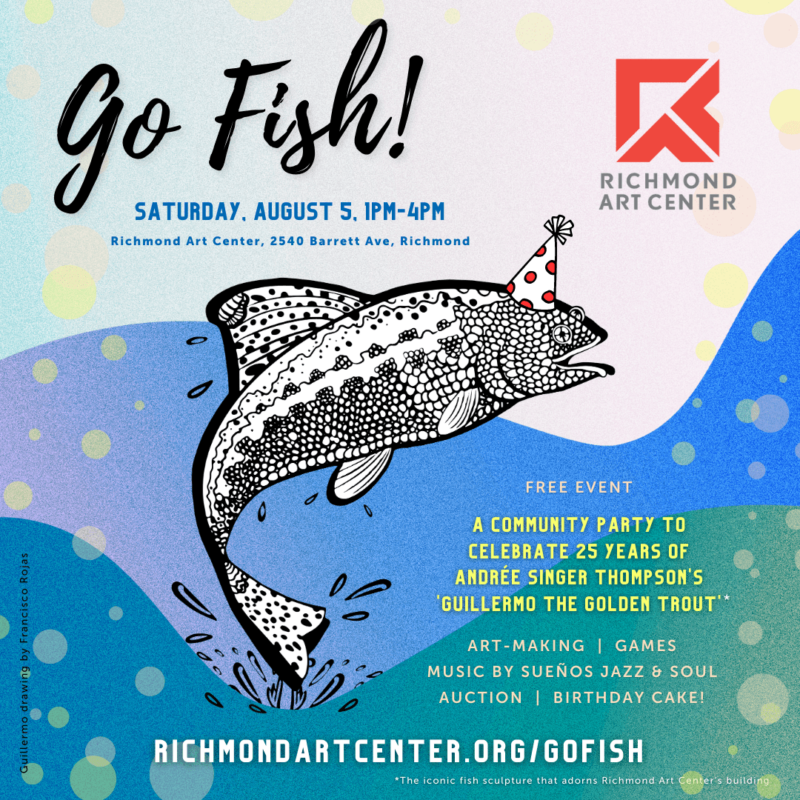 FOR IMMEDIATE RELEASE
Thursday, July 6, 2023
SPECIAL EVENT
Go Fish!
Celebrating 25 Years of Guillermo the Golden Trout
Saturday, August 5, 1pm-4pm | FREE
Richmond Art Center (courtyard), 2540 Barrett Avenue, Richmond
Event webpage: richmondartcenter.org/gofish
Richmond, CA: Go Fish! on Saturday, August 5, 1pm-4pm is a community party to celebrate the 25th anniversary of Andrée SingerThompson's iconic sculpture, Guillermo the Golden Trout. The event will honor Singer Thompson and wish Guillermo a happy birthday with art-making, games, live music, auction, and birthday cake.
"Join us on this special occasion to celebrate an icon of Richmond and the wonderful artist who created it," says José R. Rivera, executive director at Richmond Art Center.
Guillermo the Golden Trout is the prominent fish sculpture that adorns Richmond Art Center's building. At 50 feet long and weighing 800 pounds, the vibrantly colored sculpture made a big splash when it was installed in 1997 as part of Singer Thompson's Making Waves – A Ripple Effect exhibition. The work became a permanent installation after it was purchased by Mayor Rosemary Corbin for the City of Richmond using the mayor's beautification fund.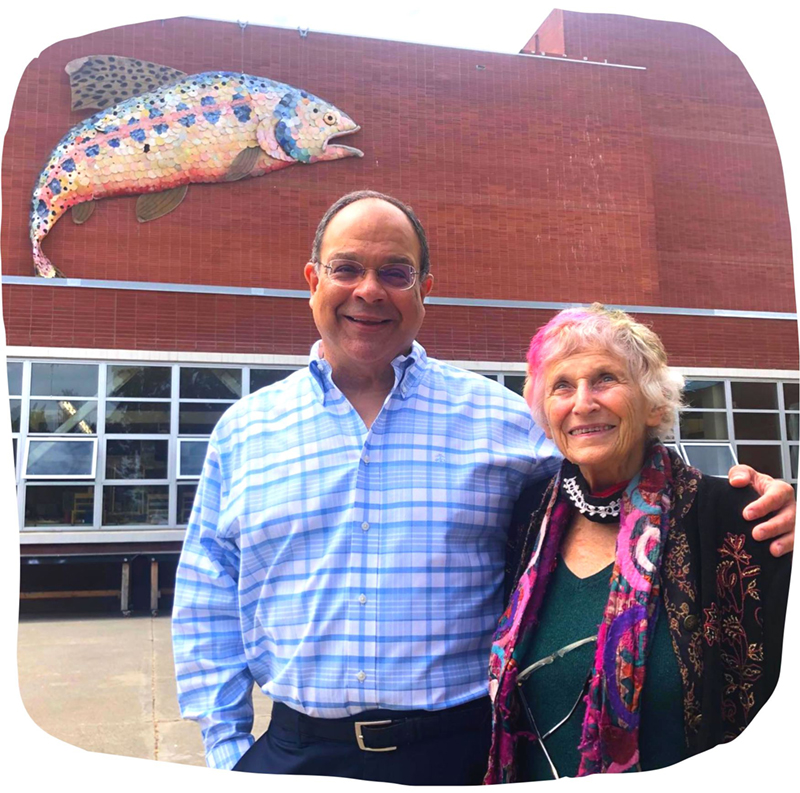 Twenty-five years later Guillermo the Golden Trout is a local landmark, and shorthand for visitors needing directions to Richmond Art Center: "Go to Richmond's Civic Center and look for the big fish!"
Go Fish! will feature a so-fish-ticated line-up of activities for all ages, including fishing games, fish art-making, live music by Sueños Jazz, and food by Richmond restaurant El Sol. Guests will also have the opportunity to learn about Guillermo the Golden Trout and Andrée Singer Thompson's artistic practice through an exhibition of her work. (In preparation for the big day Guillermo the Golden Trout received a light revamp earlier this year.)
Go Fish! is Richmond Art Center's first in-person fundraiser event since the pandemic. While the event is free to attend, 'Golden (Trout) Tickets' are available for purchase to those who can show their support. Funds raised will go towards Richmond Art Center's annual fund.
Go Fish! is open to all and no rsvp is necessary. Richmond Art Center is located at 2540 Barrett Avenue in Richmond.
Accessibility, Parking and Public Transportation: Ample free parking is available in the 25th Street lot across the street from Richmond Art Center. RAC's facility is accessible to users of wheelchairs via two step-free public entrances. The Barrett Street entrance is adjacent to a parking lot with six accessible spaces. The 25th Street entrance is adjacent to a parking lot with three accessible spaces. Richmond Art Center is accessible by BART, AC Transit, and R-Transit. Parking and Entrance Map

About Richmond Art Center: For over 80 years, Richmond Art Center has served the residents of Richmond and surrounding communities through studio arts education programs, exhibitions, off-site classes, and special initiatives for community-wide impact. Richmond Art Center's mission is to be a catalyst in Richmond for learning and living through art. richmondartcenter.org

For more information and images contact:
Amy Spencer, amy@nullrichmondartcenter.org 
Images (top to bottom):
1. Guillermo drawing by Francisco Rojas
2. José R. Rivera, RAC's Executive Director, with artist Andrée Singer Thompson
3. Guillermo the Golden Trout undergoes repairs for 25th anniversary
THANK YOU TO OUR EVENT SPONSORS:
VERY BIG FISH: Mechanics Bank, Jacobs & Company
BIGGER FISH: Phillips 66
BIG FISH: Overaa Construction, Sims Metal, Collins Management, MSH Group, Jan and Byron Brown – in memory of Gay Parker and the RACettes, Rosemary Corbin
FRIEND OF THE FISH: M.A. Hays Co., Martin McNair and Margi Cellucci, Susan Wittenberg, Ninomiya – Koda Charitable Foundation
###
Tags: featured