Press Release: Richmond Art Center Announces Artists-in-Residence Liberación Gráfica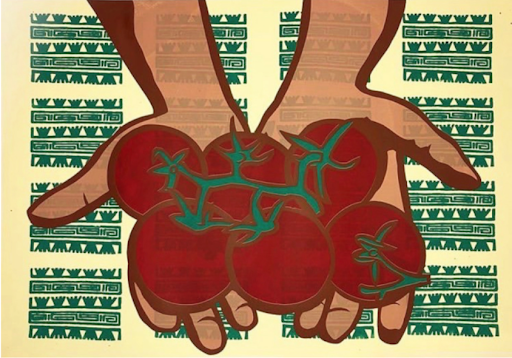 FOR IMMEDIATE RELEASE
Monday, June 6, 2022
Richmond Art Center Announces Artists-in-Residence Liberación Gráfica
Residency to include community screen printing events, summer youth class and a major exhibition 
Richmond, CA: Richmond Art Center (RAC) is excited to announce Liberación Gráfica, a community-based art collective, as this year's Artists-in-Residence. With major funding from the National Endowment for the Arts, Liberación Gráfica will lead two summer art programs that will engage Richmond youth and the greater Richmond community through hands-on screen printing workshops. 

Beginning in mid-June Liberación Gráfica will be out in the community bringing screen printing to events and locations throughout Richmond (details and schedule below).

Additionally, Liberación Gráfica will teach a summer youth class at Richmond Art Center focused on screen printing through a social justice lens. Students will be introduced to basic materials and techniques of silkscreen printing, while choosing a theme that is related to community, culture, social justice, and/or societal issues. This six-week class is open to Richmond youth by referral.

The residency will culminate in a fall exhibition in Richmond Art Center's Main Gallery showcasing work created by Richmond youth, Liberación Gráfica, and other invited community artists. The exhibition will run from September 13 through to November 17, 2022. Public programs tba.

Screen Printing in the Community: This summer Liberación Gráfica will be out in Richmond engaging youth and families at community events and local gathering places with live screen printing demonstrations. The prints will raise awareness to social issues faced in Richmond while reflecting the joy and resilience of the community. The goal of this project is to bring art directly to the people and inspire the community to engage with Richmond and each other through art. 

Schedule:
Liberación Gráfica at the Richmond Juneteenth Festival
Saturday, June 18, 12pm-3pm
Nicholls Park, 3230 Macdonald Avenue, Richmond, CA 94804

Liberación Gráfica at Low Rider Sundays
Sunday, July 31 12pm-3pm
23rd Street Between Grant Avenue and Rheem Ave 

Liberación Gráfica at Richmond Flea Market
Sunday, August 21,12pm-3pm 
716 W. Gertrude Avenue, Richmond, CA 94801

More dates and locations to be announced. If you are interested in inviting Liberación Gráfica to a community event this summer, please contact Roberto Martinez at roberto@nullrichmondartcenter.org. 

About the Artists-in-Residence: Liberación Gráfica is a community based art collective whose mission is to provide opportunities for self and community expression through silkscreen printing. The collective is made up of Richmond-based artists, teachers, and community organizers: Eddy Chacon, Lisette Vera, Daniel Cervantes and Francisco Rojas. Liberación Gráfica was established in 2019 and since has worked towards teaching youth the process of silkscreen printing through a social justice lens with the intention to bridge gaps between communities of color and bring awareness to social injustices faced by the Richmond community. 




Images: (top artwork) Daniel Cervantes, Real G's Grow Food, 2020, Screenprint; (above logo) Eddy Chacon, Liberación Gráfica Logo, 2022; (above photo) Liberación Gráfica printing at Richmond Art Center's Family Day, May 2022

—
 
About Richmond Art Center
 
Richmond Art Center has been sharing art and creating with the community since 1936. Our programs encompass classes, exhibitions and events at our facility in downtown Richmond, as well as off-site activities that bring free, high-quality art making experiences to WCCUSD schools and community partners. richmondartcenter.org
 
For more information contact:
Roberto Martinez, Curator, roberto@nullrichmondartcenter.org
 
###
Tags: featured