Press Release: Spring Family Day: Clean Air in the Wind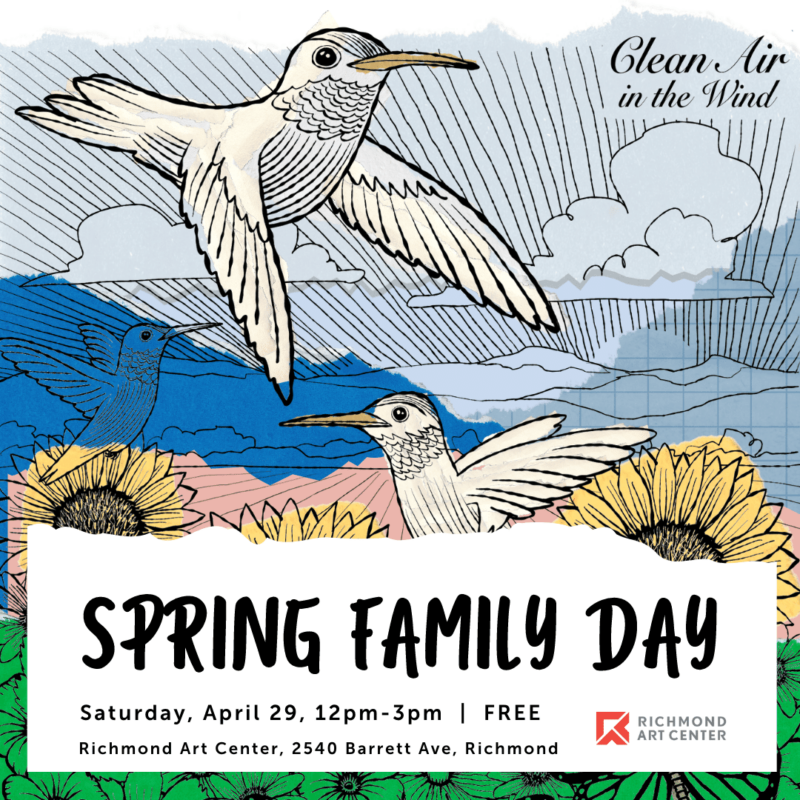 SPECIAL EVENT
Spring Family Day: Clean Air in the Wind
Saturday, April 29, 12pm-3pm  | FREE
Richmond Art Center (courtyard), 2540 Barrett Avenue, Richmond
Event webpage: richmondartcenter.org/familyday
Richmond, CA: Saturday, April 29, 12pm-3pm is Spring Family Day at Richmond Art Center (RAC). Spend your Saturday afternoon with us making art and celebrating the community-voices that demand Richmond residents' right to clean air. This free, family event features art-making activities, community action groups, spoken word, and music.

Special guests from the frontline of environmental activism in Richmond are the Richmond Our Power Coalition and the FENCELINES project team. Spoken word artist Nyabingha McDowell will perform. And the UC Master Gardener Program will give away sunflowers. 

Art-making activities by RAC teaching artists are mobiles with Cristine Blanco, sound art led by STEAM specialist Vince de Jésus, caricatures by Eli Africa, and screen printing by Alice Rice. Plus kids and families can enjoy coloring with recycled crayons, family photo booth, gallery search and find, music by Mueve, and healthy snacks!

Spring Family Day is free, open to all and no rsvp is necessary. Richmond Art Center is located at 2540 Barrett Avenue in Richmond. 

Thank you to the Richmond Arts and Culture Commission for making this event possible.

About Our Event Partners:
Richmond Our Power Coalition: The Richmond Our Power Coalition is made up of local community organizations fighting to keep us in our homes, make sure we have clean healthy air, water, food, transportation, and different ways we can have meaningful work and co-governance that's inclusive of the most marginalized of our communities. Member Orgs: Urban Tilth, Asian Pacific Environmental Network, Communities for a Better Environment, Rich City Rides, ACCE Institute, Safe Return Project, Richmond Progressive Alliance, Cooperation Richmond, Richmond LAND. www.ourpowerrichmond.org/our-members
Fencelines: Fencelines is a community-based participatory art project that invites local folk to reflect on the circumstances of environmental injustice in Richmond, CA. Fencelines is co-created by local artists and organizers – Graham L.P., Princess Robinson, and Gita Khandagle – and members of the Richmond Community. richmondartcenter.org/exhibitions/fencelines
Nyabingha McDowell: Nyabingha Zianni is a transformational speaker, published author, sacred facilitator, and spoken word poet. She is the CEO/Founder of the Sistaaz Heal Network LLC. She is the author of Mastering the Sistaaz Self: To Master the World Around You. A self development non-fiction book that focuses on her story and the process of healing to truly understand the power within. Her mission is to advance the revolutionary healing of Black Women and Black Girls.
UC Master Gardener Program: Since 1980, the UC Master Gardener Program has been extending research-based information about home horticulture and pest management to the public. In exchange for training from the University, UC Master Gardeners offer volunteer services and outreach to the general public in more than 1,286 demonstration, community and school gardens across 53 California counties. camastergardeners.ucanr.edu
Mueve: Mueve (Mueh-Ve) [Spanish for Move] is a Music Producer and DJ from Berkeley, CA.


Accessibility, Parking and Public Transportation: Ample free parking is available in the 25th Street lot across the street from Richmond Art Center. RAC's facility is accessible to users of wheelchairs via two step-free public entrances. The Barrett Street entrance is adjacent to a parking lot with six accessible spaces. The 25th Street entrance is adjacent to a parking lot with three accessible spaces. Richmond Art Center is accessible by BART, AC Transit, and R-Transit. Parking and Entrance Map
 
For information about Spring Family Day visit: richmondartcenter.org/familyday

About Richmond Art Center: For over 80 years, Richmond Art Center has served the residents of Richmond and surrounding communities through studio arts education programs, exhibitions, off-site classes, and special initiatives for community-wide impact. Richmond Art Center's mission is to be a catalyst in Richmond for learning and living through art. richmondartcenter.org
 
For more information, images and artist quotes contact:
Amy Spencer, amy@nullrichmondartcenter.org
 
Top image: Drawing by Eli Africa
###
Tags: featured