Press Release: Greenhouse Live Youth Art Showcase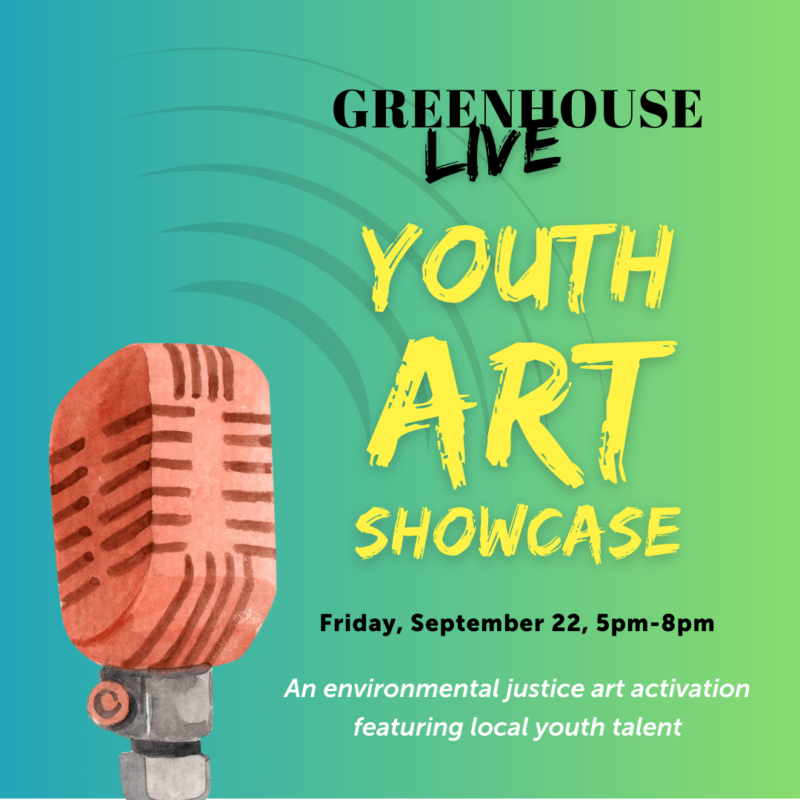 FOR IMMEDIATE RELEASE
Wednesday, September 13, 2023
SPECIAL EVENT
Greenhouse LIVE: Youth Art Showcase
An environmental justice art activation featuring local youth talent!
Friday, September 22, 5pm-8pm | FREE
Richmond Art Center, 2540 Barrett Avenue, Richmond
Event webpage: richmondartcenter.org/greenhouselive
Richmond, CA: Greenhouse Live is a youth talent showcase and open mic night featuring music, spoken word and visual art that calls for justice in response to the environmental crisis. This free event is happening at Richmond Art Center on Friday, September 22, from 5pm to 8pm.
Featured performers are spoken word artists Anizha aka Spoken Soul, Damien Rozell Pope Jr, and Tajanique Bell. Singer Lai'john Hawkins will perform, and visual artist Belle Garcia will present work.
Greenhouse Live will also celebrate the launch of Richmond Art Center's new mural, Epic Struggle / Battle Royal. This mural was created throughout the summer of 2023 in a youth public arts program that explored ways in which to combine muralismo, technology, advocacy and storytelling.
To sign up to perform in the open mic section of the evening, youth should contact Kimberly Ross at kimberly@nullrichmondartcenter.org and provide their name, and art sample/s (poetry, music or artwork) as attachments or links.
Greenhouse Live is free, open to youth ages 16 to 24, and no rsvp is necessary. Richmond Art Center is located at 2540 Barrett Avenue in Richmond.
This event is presented in partnership with Stu212, a non-profit providing music therapy, health and wellness programs, financial literacy, and mentorship for youth. www.stu212music.org
Artist Bios
Damien Rozell Pope Jr: Rozell the Bard is a poet raised in Richmond who is still relatively new to the poetry scene. Their poetry comes from experiences seen, heard and felt. Their goal every performance is to deliver something that resonates with someone, somewhere in the crowd.
Tajanique Bell: Tajanique Bell aka Tajvelani was born and raised in San Diego and is a poet who has been writing poetry for over ten years. In addition, she is a recent graduate from Baker University in Kansas and has broken multiple records during track meets during her career.
Lai'john Hawkins: Lai'jhon Hawkins is an American singer, producer, song writer, dancer, and sound engineer from Oakland California. Lai'jhon Hawkins has a diverse musical background ranging from R&B, trap, to EDM and reggae. Lai'jhon Hawkins also plays the piano and the drums.
About Richmond Art Center
Accessibility, Parking and Public Transportation: Ample free parking is available in the 25th Street lot across the street from Richmond Art Center. The facility is accessible to wheelchair users via the Barrett Avenue entrance, adjacent to a parking lot with six accessible spaces. Richmond Art Center is accessible by BART, AC Transit, and R-Transit. Parking and Entrance Map
History and Programs: For over 80 years, Richmond Art Center has served the residents of Richmond and surrounding communities through studio arts education programs, exhibitions, off-site classes, and special initiatives for community-wide impact. Richmond Art Center's mission is to be a catalyst in Richmond for learning and living through art. richmondartcenter.org
For more information contact:
Amy Spencer, amy@nullrichmondartcenter.org
###
Tags: featured